Melissa Marshall is proud to present the newest addition to the No You Cant'cer Foundation, Melissa Marshall's Bag of Tricks and Ostomy Tips! Every Tuesday, Melissa will be back to introduce you to an all-new ostomy product, or accessory, and tell you where to get it. She will highlight products you may already have, some imported from other countries, and a few little items that you may have never thought to include in your own ostomy regimen.
Melissa knows how hard it is to get back to all the things you did before you received your ostomy. This is especially true for bathing, swimming, and water sports. Melissa, like many of you, has feared her flange losing its adhesive quality and causing a leak, or the waste of a bag. But, luckily, she was introduced to the Sure Seal Ring by Active Lifestyle Products Inc. It promises a watertight barrier for the flange to allow the wearer to fully immerse themselves in water without fear.

Melissa was particularly excited about this product because, before her ostomy surgery, she loved soaks in the hot hot tub, trips to the beach, and days in the pool. This is especially true after her granddaughter, a true water baby, was born. Melissa wanted to get back in the water without fear.


Luckily, the Sure Seal worked! Melissa soaked in a jacuzzi tub without any messy leaks or ruined seals. And it goes on clear, so it's like it's barely there! The best part is that you can order a free sample of the Sure Seal from their website, so you can try it for yourself before purchasing. For the Sure Seal Website click HERE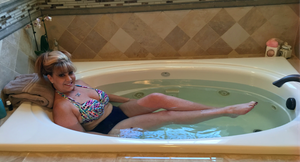 After a long soak, your bag might be damp. But that's not a big deal when you have a Quick Dry Ostomy Bag Cover by C&S Pouch Covers! Melissa had gotten one from C&S when she received her adorable pink high heel bag accessory. But, she had never found the perfect time to give it a try before now. With her bag soaked from the bath, the Quick Dry Bag Cover dried her bag in minutes, while Melissa dressed for the day. And at $19.99, this reusable, machine washable, bag cover is the perfect accessory. Say goodbye to hair dryers and damp bags for good!


Learn more at their website HERE
Follow them on Facebook HERE
Like their Instagram HERE
Tweet at them HERE

Recently, on one of our Twitter polls, many respondents said that odor was a big concern when it comes to their ostomy. While the odor might only be imaginary, it's still a valid concern and many companies have created odor blocking drops, filters, and covers. One of the most trusted companies, that many of you might recognize, is the StomaCloak. The StomaCloak is a specially made bag cover that is created with activated carbon and zeolite, which quashes any odor and reduces bacterial growth. It's also moisture resistant and adds an extra layer of protection if there's a bit of a leak. The StomaCloak is also compatible with basically all brand of bag, including such names as Hollister, ConvaTec, Coloplast, and Nu-Hope.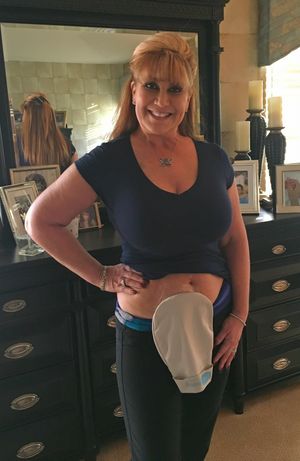 Melissa was pleased with the StomaCloak and loves the extra protection and comfort the soft fabric allows her. It's also sturdy and machine washable, so it's good for weeks at a time! At the affordable price of $25.00, it's a great addition to your daily ostomy routine.
You aren't invisible, but with StomaCloak, your odors are.
Learn more at their website HERE
Tweet at them HERE
Follow them on Facebook HERE

Love these products? Have you tried them? Let us know! We'd love to hear about your experience!
Facebook.com/NoYouCantcer      
Twitter.com/NoYouCantcer      
Instagram @Noyoucantcerfoundation      
Email: Noyoucantcer.Melissa@aol      
Phone: (609) 464-4647