Melissa is so proud to up against these three strong and beautiful survivors for this year's Hero of Hope Patient Award. We at the No You Cant'cer Foundation would appreciate your vote, as a win for Melissa will highlight colorectal cancer and the ostomy bag. Below is the article that Conquer Magazine attached to Melissa's voting section on their website, which you can visit HERE.
Melissa Marshall chalked her symptoms up to trouble with her hip and age. 
A longtime Atlantic City singer and performer, Melissa's hip had become so painful that she was preparing for hip replacement surgery. She thought that the other symptoms she was having at the time—bowel irregularity, bloating, rectal bleeding, and pain—were a result of turning 50 and her reduced physical activity. 
But when she described the symptoms to a close friend before a planned hip replacement surgery, she realized something else might be afoot. 
"She didn't even let me finish my explanation," Melissa recalls. "She told me to get off the phone right away and call my doctor. Before that moment, cancer wasn't even a thought in my mind."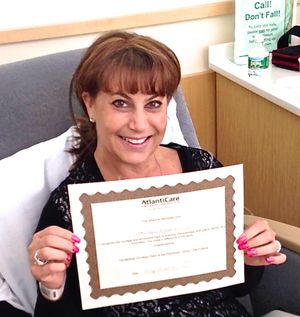 Melissa was referred to a colorectal cancer surgeon, who right away performed tests to confirm the diagnosis. The doctor found a tumor the size of a golf ball and tried to excise as much as possible during a colonoscopy. 
"If I had ignored it and gone ahead with my hip replacement surgery, the tumor would have continued to grow, and I wouldn't be alive today," she says. 
In November 2013, Melissa underwent surgery to remove most of her rectum and lower part of her colon. She was also fitted with an ostomy bag that she will use for the rest of her life. 
"I've always accepted that my ostomy would be permanent, but I noticed that people would pull away the moment I mentioned my bag," she says. "There's such a stigma, that many people end up retreating from society."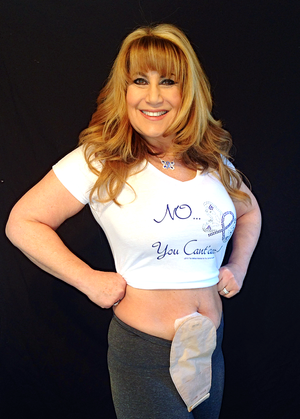 But that wasn't Melissa's reaction. On the way home from the hospital after surgery, she had a vision of what is now her foundation's insignia: a butterfly with a cancer awareness ribbon in the center. She also wrote an anthem called "No You Cant'cer." 
"As I wrote the words, I felt that I was speaking directly to my cancer," she says. "The song is for people who, through the power of music, find the strength to take on their illness." 
Melissa relied on her friends and family during the treatment period that followed her surgery. She endured 7.5 months of chemotherapy, radiation, and complications from her cancer treatment.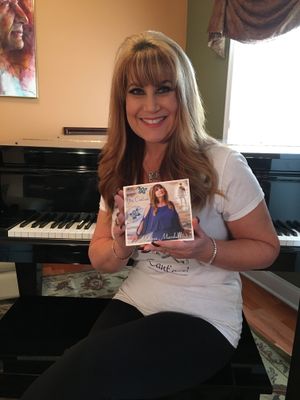 Through it all, she maintained a passion for her music and her butterfly insignia—2 creations that gave hope and encouragement to others. Her third creation, the No You Cant'cer Foundation, would bring all of her work together. 
"The foundation's funding comes from the sale of my music and butterfly necklaces," she explains. "Funds are used to print and distribute my educational pamphlet—"It's in the Bag"—which teaches patients with cancer about life with these appliances and helps to dispel the negative myths surrounding their use. We distribute these pamphlets to doctors' offices across the country."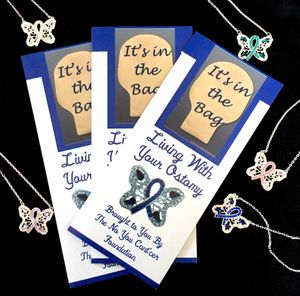 In addition to her pamphlet, Melissa also hosts a live YouTube series geared toward people getting used to an ostomy bag. Titled "Melissa Marshall's Bag of Tricks and Ostomy Tips," the videos detail new ostomy products and offer advice for people who are new to an ostomy bag. 
As the No You Cant'cer Foundation enters its third year, Melissa continues to blend her passion for music with her goal of educating and supporting those with cancer and newcomers to the ostomy community.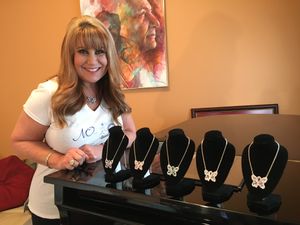 In March 2017, her foundation hosted a cabaret with performers from across Atlantic City—an event she plans to grow into a full-fledged concert in March 2018. 
"I've returned to singing and dancing. And I wear clothes that I wore before, even with my ostomy," she says. "Nobody would ever know unless I choose to tell them. That's the message I'm trying to share: that it's possible to find a level of comfort in your life, even after cancer."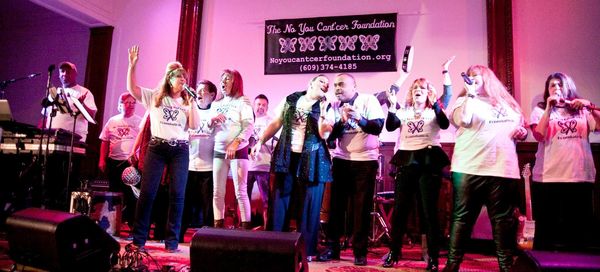 To help Melissa win this once in a lifetime award, please click HERE and cast your vote.