As Melissa heals from her latest surgery, the one that made her ostomy bag a permanent fixture in her life, she took the time to reflect upon the journey that brought her to where she is now, as a life-long ostomate. This is her first blog post since her Bag of Tricks and Ostomy Tips had to take a backseat for her health, but the start of a new chapter in her life and growth as a proud ostomate.
Three days after my Lower Anterior Resection, rectal cancer surgery, my stoma awoke and I named her Steel Magnolia. Many of the support groups I visited and articles I read had informed me that giving your stoma an identity was a crucial part of learning to love your latest body part. But before she and I could get better acquainted, I received a visit from my surgeon, informing me my lymph nodes were compromised and I became a Stage III cancer patient. 
Let's start at the beginning to my first visit with the surgeon at Sloan Kettering in Manhattan. The initial moments are forever imbedded into mind. When I stepped out of one of the famous New York City yellow cabs, I looked up at the sign on the side of the building. It was then that I heard tympani drums, the ominous da da dah resounding in my head. Two hours later, after sitting in the waiting room, and realizing half of the people there had cancer and the other beside them was the person who had to come with, my name was finally called. 
After what seemed, yet again, like another excruciating long wait, the doc walked in and examined me. She prodded and poked, then told me to dress before escorting me to the consultation room. Anyone who has ever had to have some kind of cancer-related surgery knows that nothing good ever happens there. 
She proceeded to explain my options, which were basically nonexistent. Yet there was one she left out, and since I had already started investigating options for myself, I asked the questions. 
Why can't you just make it all permanent in this operation? Why do I have to wait to receive the results of my lymph nodes if the tumor is the size of a golf ball? If it's sitting on my sphincter and the odds are I'm always going to have the ostomy, why not just seal the deal? If the chances of reversal are so low, why cant you just do the protocolectomy and get it over with? 
"That's pretty radical when we don't even know what stage you are," she replied in the cool, calm, and collected voice of a woman who has probably had the same conversation a dozen times or more. 
In that moment, I was reminded for the way Angelia Jolie was praised for her decision to have a double mastectomy due to her BRCA test results. She was applauded for taking charge of her health and her body in that moment. My thoughts and opinions were disregarded in that consultation room. It was then that I wryly considered the phrase, "Go with your gut feeling." I was put in a position were that feeling was ignored, setting me up for future complications. 
And on day three of becoming an ostomate, I knew that the proctocolectomy had to happen one day. But until the surgery, every day would be a roll of the dice about if I got a hernia, an obstruction, or any other of the "typical" medical issues that happen to ostomates. And instead of the neat and tidy proctocolectomy, I would risk a hasty procedure in the emergency room with a surgeon who didn't know anything about me and I'd be cut like a fillet of fish. No matter how many rounds of chemo or radiation I endured, that risk was always prominent in my mind.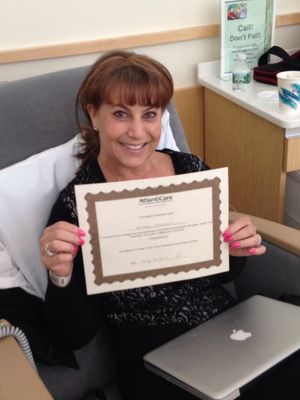 After the initial surgery, while I successfully returned to my singing career and developed the No You Cant'cer Foundation, everyone in my life celebrated my reemergence into the world of the cancer-free. Little did they know, it was merely a façade that I had created to keep my world together. Inside my head, the clock was ticking, and the coo-coo bird would pop out every night saying, Made it another day, Made it another day. 
I had, over the previous three years, sought out several surgeons to find a perfect fit. I wanted the security of no longer having to wonder if and when disaster would strike. The dream team I imagined would respect my needs and wishes, taking my lifestyle into consideration, and giving me the autonomy to decide for myself what treatment and procedures I would have. 
Ultimately, Penn Medicine was where I felt comfortable. The team made me feel as if they approved of me being an informed and educated patient, whose opinion on her own course of care was valued. Led by Dr. Nichole Saur, I knew I could trust them implicitly. 
On December 14, 2016, I scheduled a colonoscopy with Dr. Saur, in which they also probed my stoma and small intestine. The procedure was unsuccessful in every way. They were unable to enter my colon, for although I still had the organ in question, it was inert and served no purpose. Well, it wasn't completely inactive, as I actually still got colitis attacks, which is called Diversion Colitis, something that was only possible in my state of incompletion from the original surgery. 
Upon returning home from the procedure, I was in a great deal of pain and the pain quickly progressed through the night until I was running a dangerous fever. I rushed to Penn Medicine to meet with the team. The entire time I drove, my mind was racing with, "Oh, God, this is it! I'm going to end up in surgery, my luck has finally run out." And after many tests, they discovered that I had a small tear in my small intestine. They gave me a course of antibiotics and a diet of ice chips to see if the tear could heal itself. But as I recovered, I vowed that I would not only trust my gut, but voice my opinions. 
Before I left, Dr. Saur entered my room and sat beside me. She explained that if my tear were to heal without complications, then we could plan the proctocolectomy I had initially wanted. She understood my profession and she addressed my desire to be as minimally cut as possible. With her on my side, I was able to make a plan. After my tear healed, I made an appointment for a September surgery and made a pre-surgery bucket list.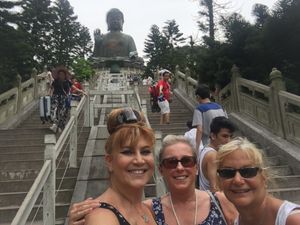 I Visited China and Macau, sang as much as I could, built and developed my foundation as much as possible, enjoyed my summer at the race track in Saratoga Springs with all my friends and family, and even attended the AONN+ conference where I won the Hero of Hope Award. I did this all while knowing that right after my granddaughter's third birthday, I would have to put my life on pause to recover.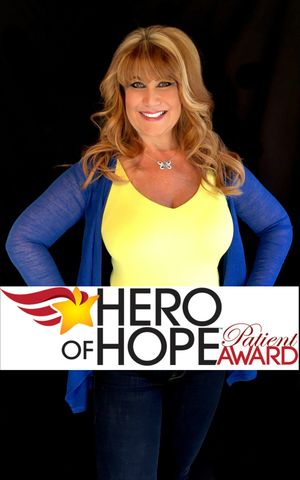 Oh, but of course the best-laid plans never turn out like you want. Just after returning from China, all was initially falling into place. I had been psyching myself up, watching the clock tock down to surgery day, then BAM, CRASH BOOM, I was rear ended by a limousine. 
I suffered a very severe concussion, whiplash, sprained neck, sprained shoulder and sprained shoulder blade. The concussion had caused my speech to be impaired, my eyes and hearing to be compromised, and I was exceptionally dizzy and off balance. With the vertigo and Post Concussive Syndrome, I had to go to physical therapy three days a week, couldn't work, couldn't drive, couldn't think, and couldn't remember words. And, you guessed it, once Dr. Saur was informed of my condition, she postponed the surgery until my neurologist would give me clearance. 
I couldn't believe it was happening. I had taken nine months to prepare my mind for the proctocolectomy, and in one crashing second, my life was yet again put on hold. Now don't get me wrong, I completely agreed and knew I was in no shape to go under a knife, and they would never administer the anesthesia for fear I would not wake up…but it was still a crushing blow. 
Now, after this stretch of bad luck, my friends and family were telling me to forget about the surgery, to not do it, that the crash was a sign I shouldn't get it done. They didn't understand that I had been living with that coo-coo clock for four years. I knew it was time, and as soon as I could be cleared I wanted to get it over with and get on with my life. 
When I finally met with Dr. Saur, she felt assured my brain was cleared for surgery. We set the date for December 8, 2017. We talked at length about the incisions and recovery time and I my eagerness to be over with. I was ready and no one was going to stop me. 
December 8th, after eight and half hour surgery, Dr. Saur greeted me in recovery and said she had great news. She was able to use robotics in my abdomen and spare me the major incision that would have cut through all my stomach muscles and tendons. She pulled my colon out through the big incision, where my rectum had been amputated and later sealed up. Even as groggy as I was in recovery, I knew she went above and beyond what I wanted and went the extra mile to insure the best outcome possible.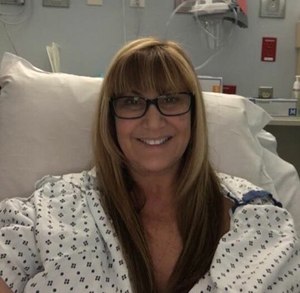 There is barely anything more important than choosing the doctor, team, and hospital that makes you feel like they understand they are reconstructing you body, your vehicle that you use to protect your soul in this life. You must treat your body as your temple, and only the most deserving are allowed to remodel and strengthen its foundation and pipes. 
After only a five-day hospital stay, I was released and brought home. I was in a great deal of pain, but mostly concentrated from my rectal incision and amputation. The only thing hitting me in my abdomen was the foot long drain that wrapped inside my core where my colon used to be. So strange to know you don't have a colon. But here are the perks—I've lost weight just by it being out with a flatter stomach automatically, I don't have colitis attacks, and the best one so far…I haven't had a single hot flash in a month. Not sure why not, but I will gladly accept that for me, my womanly suffering is over.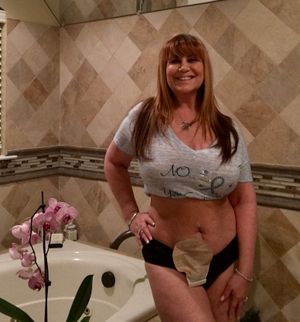 It has been four weeks and one day since my proctocolectomy and my healing is coming along amazingly. I do still have to sleep or sit on a medical cushion, I'm just now getting back to driving, and I am experiencing recent nerve rapid-fire stabs all about the rectal region. I'm certain they are just waking back up after being pulled wide apart like the cleaning out of the Christmas turkey. 
 But as I reflect upon the path that led me here, I wish to share the most important lesson I have learned. We all have the power to make decisions for our body and for the way it functions. Do not be afraid to speak up about your own care, because no one has to live with your body but you. You can and should be your own best advocate, because no one knows you better than you. 
The surgery I thought would cause me to miss half a year of my life is nothing like I imagined. I was already walking and singing three weeks after the initial incision. I believe this is because I communicated and built a relationship with the doctor my gut told me was the right choice for me. Dr. Nichole Saur was the one that allowed an open dialogue and listened when I communicated what I wanted. She went the extra mile during surgery because she understood how I wanted to life my life and what it would take to get me, and Steel Magnolia, there. That is the type of doctor you want on your team. That is why you listen to your gut.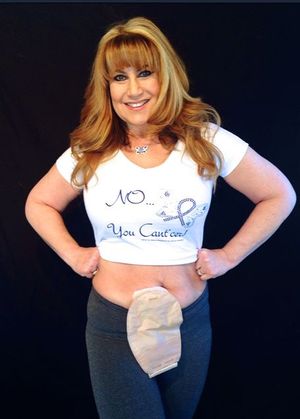 Melissa hopes that you found these tips useful and informative. But the biggest tip she has for you is to never let your ostomy stand in your way. It's not a death sentence, but a normal, medical appliance that allows you to travel and live your life. Yes it may be new, and sometimes difficult, but it's still your amazing life to live. 
Facebook.com/NoYouCantcer 
Twitter.com/NoYouCantcer 
Instagram @Noyoucantcerfoundation 
Email: Noyoucantcer.Melissa@aol 
Phone: (609) 464-4647