Three new colors were recently added to the No You Cant'cer butterfly collection, making it a fantastic time to remind everyone about what each color stands for and where all the proceeds from your purchases go. You may order these necklaces HERE and each one comes within the No You Cant'cer CD.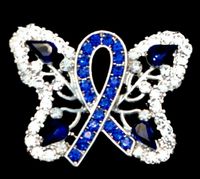 Royal Blue
Colorectal Cancer, Acute Respiratory Distress Syndrome, Addiction Recovery, Alopecia, Ankylosing Spondylitis, Apraxia, Arthritis, Brachial Plexus Injuries, Charge Syndrome, Child Abuse, Chronic Fatigue Syndrome, Colitis, Cri du Chat Syndrome, Crohn's Disease, Cyclic Vomiting Syndrome, Dysautonomia, Dystonia, Epstein-Barr Virus, Erb's Palsy, Familial Polyposis, Foster Care, Guillain Barre Syndrome, Histiocytosis, Huntington's Disease, Hydranencephaly, Ichthyosis, Koolen-de Vries Syndrome, Krabbe Disease, Leukodystrophies, Mastocytosis, Myalgic Encephalopyelitis, Myositis, Osteogenesis Imperfecta, Pompe Disease, Restless Leg Syndrome, Transverse Myelitis, Turner Syndrome, and West Nile Virus.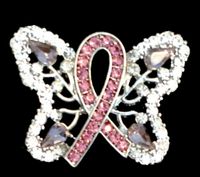 Light Pink
Breast Cancer, Birth Mothers, Breast Reconstruction, and Nursing Mothers.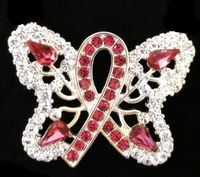 Fuchsia (Limited Edition)
Breast Cancer, Birth Parents, Cleft Palate, Feminism, Breast Reconstruction, Nursing Mothers, and Pro-Life.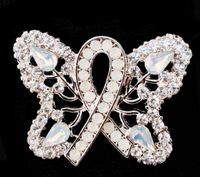 Opal
Lung Cancer, Blindness, Bone Cancer, Bone Disease, Congenital Cataracts, Dating Violence, Emphysema, Hernia, Gay-Teen Suicide, Invisible Illness, Mesothelioma, Multiple Hereditary Exostoses, Multiple Sclerosis, Osteoporosis, Postpartum Depression, Severe Combined Deficiency Disease, Retinoblastoma Cancer (Eye Cancer), Right to Life, Scoliosis, and Waldenstrom's Macroglobulinemia.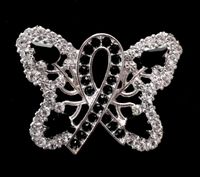 Black
Melanoma, September 11th Remembrance, Narcolepsy, Primary Biliary Cirrhosis, Sleep Apnea, and Sleep Disorders.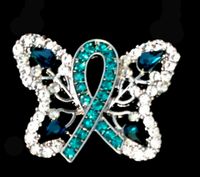 Teal
Gynecological Cancers, Addiction Recovery, Anti Bullying, Agoraphobia, Anxiety Disorder, Batten Disease, Bone Tumor, Cervical Cancer, Congenital Diaphragmatic Hernia, Dissociative Disorders, Ectodermal Dysphasia, Fibular Hemimelia, Food Allergiea, Fragile X Syndrome, Interstitial Cystitis, Knee Injury, Marker X Syndrome, Martin-Bell Syndrome, Military Sexual Trauma, Myathenia Gravis, Obsessive Compulsive Disorder, Ovarian Cancer, Panic Disorder, Polycystic Ovarian Syndrome, Polycystic Kidney Disease, Post Traumatic Stress Disorder, Progressive Supranuclear Palsy, Proximal Femoral Focal Deficiency, Renal Cell Carcinoma, Sexual Assault, Scleroderma, Tourette's Syndrome, Trigeminal Neuralgia, Tsunami Victims, Uterine Cancer, Vulvar Cancer.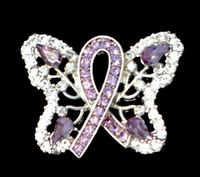 Lavender
All Cancers, Acid Reflux, Anorexia, Bulimia, Craniosynostosis, Eating Disorders, Eosinophilic Disorders, Epilepsy, Esophageal Cancer, Gastric Cancer, Gynecological Cancer, Hypokalemic Period Paralysis, Infantile Spasms, Irritable Bowel Syndrome, Pulmonary Hypertension, Rett Syndrome, Small Intestine Cancer, Stomach Cancer, and Testicular Cancer.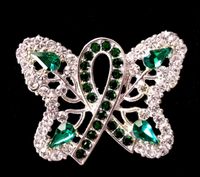 Emerald
Liver Cancer, Adreanal Cancer, Aging Research, BiPolar Disorder, Bone Marrow Donation, Bronchiolitis Obliterans, Cerebral Palsy, Childhood Depression, Craniosynostosis, Depression, Dwarfism, Eye Injury Prevention, Fanconi's Syndrome, Fibrodyplasia Ossifican's Progressiva, Functional Gastrointestinal and Motility Disorders, Gastroparesis, Glaucoma, Literacy, Living Organ Donation, Mental Health, Nephrotic Syndrome, Neural Tube Defects, Neurofibromatosis, Organ Transplant, Organ Donation, Mitochondrial disease, Primary Sclerosing Cholangitis, Spinal Cord Injury, Stem Cell Research, Tissue Donation, Traumatic Brain Injury.
It's in the Bag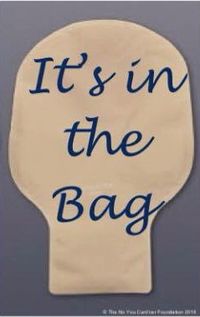 Our informational pamphlets are currently available in dozens of medical offices in several states. We ship boxes to nurses, doctors, and support group leaders who display them as part of their medical pamphlet selection. Inside, we answer frequently asked questions, address common fears, and have information about support groups and the most trusted ostomy companies. The majority of your donations go toward the production of these pamphlets and the shipping costs, as we offer them to those who request it, free of charge. The rest goes to events, such as the No You Cant'cer Night of Stars to Benefit Colorectal Cancer and Ostomy Education or for Melissa to obtain the certifications necessary to be a greater voice within the ostomy community. You may read more about It's in the Bag HERE!
Facebook.com/NoYouCantcer 
Twitter.com/NoYouCantcer 
Instagram @Noyoucantcerfoundation 
Email: Noyoucantcer.Melissa@aol 
Phone: (609) 464-4647