After a brief hiatus, Melissa Marshall is back with all new episodes of Melissa Marshall's Bag of Tricks and Ostomy Tips! Every Tuesday, she'll return to introduce you to an all-new ostomy product and tell you where to get it. She will highlight products you may already have, some imported from other countries, and a few little items that you may have never thought to include in your own ostomy regimen.
In today's episode, Melissa unboxes the StomaTuck, a brand new product the No You Cant'cer team first encountered at the WOCN conference in Philadelphia last June. The StomaTuck is a protective barrier that keeps the stoma and bag from being jostled or pushed by clothing or seat belts. Made with a flexible polymer, which is easy to clean and safe for long term use against skin, the StomaTuck is surprisingly simple, yet very effective. All you do is clip the StomaTuck around your ostomy bag, then slip it over the waistband of your clothing.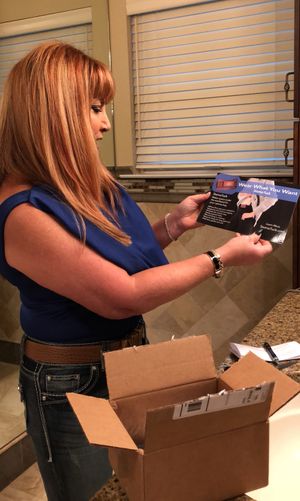 Melissa thought instantly that this product would be perfect for travel. Any ostomate knows that seat belts can cause more than a little discomfort. The pressure can irritate the stoma or even cause leaks. This is especially true on airplanes, where one may not always be able to use the restroom in the event of takeoffs, landing, and turbulence. Having something like the StomaTuck could be invaluable for less stressful car rides and long plane trips where a seat belt is a must. But why stop at travel? Theme parks can be back on the schedule! The firm, yet flexible makes the StomaTuck perfect for all those harnesses and lap bars on your favorite roller coasters. And working out in the gym with the extra support of the StomaTuck is certainly coming in handy. Really, any activity where you need some secret armor for your ostome bag, StomaTuck is a one stop shop.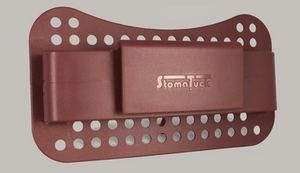 The drawbacks for the StomaTuck were few. Melissa did have some difficulty getting the clip over the belt loop of her jeans, which may have been due to the fact that women's pants usually have their belt loops positioned differently than men. Or it may have been because of the placement of her stoma. Others may not have that issue and it's nothing a wardrobe change didn't fix. She would also like to see a sleeker design for women, but changing the thickness could ruin the stability the StomaTuck provides. In addition to that, the "Mini Bag" was not compatable with the StomaTuck and with the larger, more standard bag, there was some bag crimping. But again, each ostomy is different and just because Melissa had a few difficulties, doesn't mean that you would.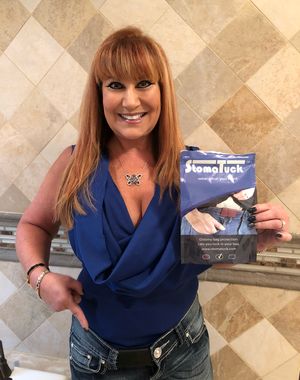 Overall, Melissa found the StomaTuck to be inventive and very useful for traveling. She will personally pack hers in her carry on bag for her next ostomy adventure. Check out their website HERE or their Facebook HERE and see how StomaTuck may improve your life.
The StomaTuck is $49.99 and available now in black and brown. You can order yours on both the StomaTuck website HERE as well as on Amazon HERE. As an extra incentive, the StomaTuck on Amazon is Prime eligible, so say hello to free two day shipping and a little peace of mind.
Facebook.com/NoYouCantcer 
Twitter.com/NoYouCantcer 
Instagram @Noyoucantcerfoundation 
Email: Noyoucantcer.Melissa@aol 
Phone: (609) 464-4647