For our American readers, or those who love a turkey dinner, I'd like to talk about Thanksgiving. Pre-ostomy, it was one of my favorite holidays, full of good food and visiting family. Post-ostomy, it's still centered on loved ones, but the menu has shifted, and if you have an ostomy, you know what I mean. And then there's the travel, the adjusted schedule, and the stress of wondering if you'll get through the holiday with your bag intact. So, let's get ready with some traveling tricks and ostomy recipe tips.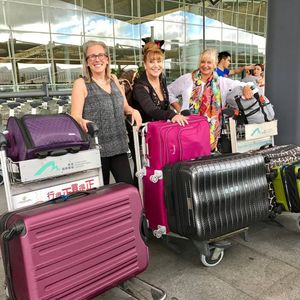 I travel more with my ostomy now than I did before! China, Las Vegas, New York City…nothing is out of range and I've written about my experiences HERE and HERE. But my top traveling rules are as follows: 
Always pack more supplies than you thing. Although it would be great to pop into the nearest CVS when there's an emergency leak, most stores don't carry any ostomy supplies. It'll be up to you to make sure you have more than what you need, just in case. 
If you're flying, a travel card will help you get through the TSA lines without having you spill your guts to every agent you meet. Available from the UOAA website HERE, the Travel Communication Card is a great way to keep your private business private. 
Add a Ricksack from Stomaworks to your carry on bag or suitcase in the back of your car. Sometimes leaks or an over-filled bag happen. The Ricksack allows you to change and empty without the need for a bathroom. You can read my full thoughts HERE. 
A StomaTuck is also a great tool. The hard, plastic barrier can keep a seatbelt from putting too much pressure on your bag or stoma during travel. You can read my tips HERE. 
Staying at a family's house or hotel? Add a "puppy pad" to your bag, just in case. You might not always have access to a washing machine in a new place, so sleeping on a puppy pad can keep nighttime leaks from sending you into a frenzy.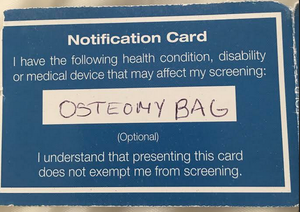 As far as dinner goes, turkey is good, as long as the skin is crispy and not fatty. Like creamed corn? Too bad, you know that could cause an issue. Cranberries are okay, as long as they come in a can as a gelatinous cylinder. Green bean casserole is also out. It's best to stick with mashed potatoes and sweet potatoes, and gravy. 
In short, the menu is limiting for ostomates and what we're able to eat is so varied, it's tough to find a definitive answer to what is safe to eat. So as we all start our holiday preparations and fight in the grocery store for last bag of marshmallows, I wanted to share a few recipes that might just make it onto your table this year. 
Butternut Squash Risotto 
In lieu of the traditional green bean casserole, this dish makes a nice hearty substitute. All you need is: 
1 butternut squash 
2 cups of white rice 
1/2  stick of butter 
3 cups chicken broth 
½ finely chopped white onion (unless onion irritates your stoma) 
Salt and pepper to taste 
1 whole sprig rosemary 
Olive oil 
First, you cut and gut the butternut squash, coat it lightly with olive oil or butter and add salt and pepper. Then you place the rosemary inside. Cover it with foil and bake at 350 until tender. Then take it from the oven, remove the rosemary, and let it cool. 
While your squash is chilling, sauté your onion in a large pan in a pat of butter until it's soft. Add some salt and pepper, then your rice. Stir and add two cups of broth. Add the third as the rice softens. And while you're waiting for that, use a food processor, or blender, to whip your squash into a smooth texture. Then, when the rice is a creamy risotto, add the pureed squash. Serve hot, topped with cheese, parsley, whatever it is you like! 
Sweet Roasted Carrots 
Carrots are considered a "safe" food for many ostomates, so here's a very simple recipe that could work for you. 
2 lbs carrots, cut into bite sized pieces 
3 tbs honey 
2 minced garlic cloves (or less if this causes output odor for you) 
½ cup butter 
Salt and pepper to taste 
While your oven preheats to 425, put your carrots in a bowl sauté your butter on medium heat, whisking to keep it from burning, until it's brown. Melt in your honey and garlic, and then pour the mixture over your carrots, mixing until they're covered. 
Spread the carrots evenly on a baking sheet and season with salt and pepper before putting it in the oven. After about fifteen minutes, your carrots should be tender and ready to serve!  
Butternut Squash and Apple Soup 
Sweet and savory, this ostomy friendly recipe is a great one that you can serve as a tasty appetizer or side dish. But, as with all soups, there is a chance of greater output. 
2 butternut squashes, peeled, gutted, and diced 
1 granny smith apple, peeled and diced 
2 cups of chicken or vegetable stock 
Salt and pepper to taste 
1 pinch of cinnamon 
1 pinch of nutmeg 
½ cup coconut milk 
Put everything but the coconut milk in a large pot. Cook on medium until it starts to singer, and keep cooking and stirring every so often until everything is tender. That should only take about a half hour. If you have an immersion blender, it's time to add the coconut milk and blend, then serve. If not, a blender works just as well in two batches. Carefully pour everything into the blender, add coconut milk, cover with lid, and puree! More salt and pepper might be needed, but that is up to you!  
Savory Sweet Potatoes 
Anything with bacon is always a hit and sweet potatoes are a holiday staple. But sometimes it's nice to have something crispy done with them, not that there's anything wrong with sweet potato and marshmallow casserole. 
3 cups peeled and diced sweet potatoes 
½ lb raw bacon chopped small (or more if you are a bacon lover) 
1 tbs rosemary chopped small 
Salt and pepper to taste 
Line a baking tray, or two if needed, with parchment paper. Put your sweet potatoes on the tray(s) and sprinkle with salt and pepper, then add the bacon. The rosemary comes nest and then you pop the tray(s) into an oven preheated to 400. 
After about twenty minutes, take the tray(s) out and mix a little so everything has a chance to crisp and brown. Then bake for another ten to twenty minutes, or until the bacon is nice and crispy. Then serve!
What are your Thanksgiving tips, tricks, and recipes? Comment below and let us know!
Facebook.com/NoYouCantcer 
Twitter.com/NoYouCantcer 
Instagram @Noyoucantcerfoundation 
Email: Noyoucantcer.Melissa@aol 
Phone: (609) 464-4647