At the No You Cant'cer Foundation, we understand that everyone's journey is different and everyone's needs are different as well. In order to try and expand the conversation we hope to spark, we have invited former and present ostomates to join us in special blog posts. For our first guest, we welcome Retired Army Lieutenant Colonel Justin Blum. He was kind enough to agree to let us interview him about his life, his accomplishments, and his ostomy.

Please tell us a little about the journey that led you to receive an ostomy bag.
At the age of 19, in 1971, I started showing the symptoms of ulcerative colitis. As the years went on, things did not get any better.  What I learned from my gastroenterologist is that my chances of contracting colon cancer were 10X the average person and then 20X the average person if I had the colitis for 10 years and then 20 respectively. I had colonoscopies every other year until December 1992, when I was bleeding profusely through my rectum despite being on 240 mg of prednisone per day. The cancer was seen during this colonoscopy and I was scheduled for my surgery at the end of February at Fort Gordon's Eisenhower Army Hospital. A year prior, my Army gastroenterologist wanted me to have ileostomy surgery, but I basically screamed "No, I will only have this surgery if my back is against the wall and I have one foot in the grave!" After the colonoscopy a year later, there was no doubt that I needed to have ostomy surgery. 
You have three children. Will you stress the importance of colorectal cancer screening to them as they age? 
I have told my three children, now ages 27, 31, and 33, to always check their stool for blood, and if you ever notice blood in the toilet, go for a colorectal cancer screening immediately. My father at the age of 59 had colon cancer. Despite surgery for a resection, the symptoms came back a year later, it spread to his liver and he died at the age of 61. I feel I was given a second chance to live having been screened extensively during my 20 year battle with ulcerative colitis.   
Before you received your ileostomy, what did you know, if anything, about ostomies? 
I knew absolutely nothing about ostomies.  After my last screening, my doctor sat me down and sketched a diagram of what an ostomy bag looked like after my large intestine would be removed. Having been prepped for colonoscopies for almost 20 years, I thought the worse thing about ostomy surgery was drinking at the time the collate for the prep. I sure was wrong!
Were there any items that you found helpful in your post-surgery recovery? 
I did not have access to an ostomy nurse during my post-surgery recovery. However, have to admit, I found having a bit of courage and confidence helped. On the third day following my surgery, my appliance started to become loose. Despite calling for a nurse a number of times, I was alone. Looking at myself in the mirror with my bag handing down and swinging to and fro, I felt as if I was the Elephant Man. With that said, I had no choice but to clean myself up and change my appliance myself for the first time. Looking back, this was all to my favor. It gave me the courage to look at myself with a bag and go through the steps to clean myself up and change my bag. This feeling of courage and confidence stayed with me throughout my recovery period!  
Did you have a support or post-care nurse to aid you during that time? 
During my recovery time at Eisenhower Medical Center, Fort Gordon, GA, I did not have an ostomy nurse, per say, but I did have a good number of professional Army nurses who ranged in rank from Second Lieutenant to Captain. They were all a God send in the way they performed their duties and stood by me for the two weeks until I was discharged to go home.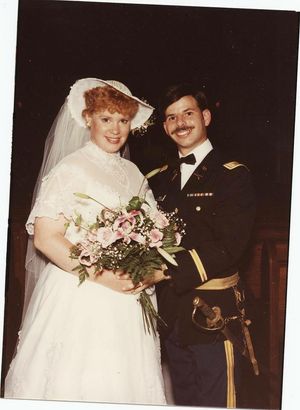 Justin and his wife Leah on their wedding day.
Are you a member of a support group? If so, how have they helped you in your process? 
I am not a formal member of an ostomy support group, except for the various groups for ostomates on Facebook. This is a great way of exchanging ideas, stories, and tips for ostomy management. When I first came home from the hospital in 1993, I did not have a support group and the internet was still very young and we did not have a computer. However, my wife was my best support group for without her love, patience, and especially sense of humor, I would not have been able to transition with life as an ostomate compared to prior when I was suffering from ulcerative colitis.   
Did your ostomy make your duties with the Army difficult to perform? 
I was very fortunate.  As an armored/cavalry officer with the rank of Major, I was performing my duties primarily in staff positions. I still had to maintain height and weight and physical training standards. Being on prednisone for 7.5 years at dosages between 40 and 240 mg per day, I would gain weight which would put me in jeopardy of not meeting height and weight standards as per Army regulation 600-9.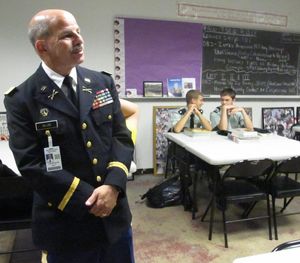 Justin in his JROTC class
You have been a JROTC instructor for more than twenty years, do your charges know about your ostomy or do you discuss it during your health-related lessons?
I inform all of my JROTC cadets that I have an ostomy and why I have it. Prevention is one area that I discuss with them regarding proper diets and handling stress. I use my ostomy as an example to tell my cadets never to give up. I also let them know that I have accomplished more in life since my ostomy surgery than prior. I was able to spend 21 years on active duty and be promoted to Lieutenant Colonel, despite having my ostomy for my last three years of active duty. I showed the medical review board that I could still do my job and perform physical training. In fact, two months after my surgery, I was power walking 9 miles per day to prepare for my physical training test.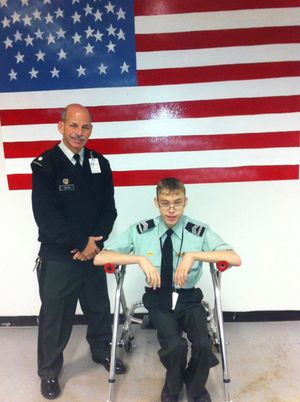 Justin and one of his students, JROTC Cadet Sergeant First Class Tyler Morgan from Marlboro County High School
What are your favorite ostomy products? 
Coloplast Bravo adhesive strips and Convatec Eakin seals. From 2006 until June 2011 I was experiencing a lot of pain and irritation on the skin around my stoma. An ostomy nurse by the name of Donna Sellers from Convatec examined me in June 2011 and immediately recommended these two items.  Within weeks the pain and irritation was gone and I owe by new quality of life to Donna. 
What do you wish more people understood about having an ostomy?
I simply wish that more people would look at someone with an ostomy as someone who has an alternate method of evacuation fecal matter and not let the ostomy define them. Everyone performs "Number 2", per say,  and for the most part, it is understood and taken for granted that it is a normal part of life. Therefore, with someone with an ostomy, others around him or her should simply not judge them and again, simply accept them as if they were not an ostomate.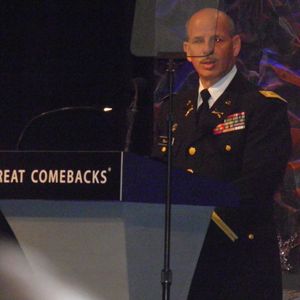 Justin as the 2011 Tony Snow winner for the Convatec Great Comebacks National Program
Blum was not exaggerating when he said his life post-ostomy was full of accomplishments. By July of 1996 he had been promoted to the rank of Lieutenant Colonel in the United Stated army and had retired. But his service didn't end there. One month later, he became an Army ROTC Instructor and was even named Instructor of the Year in 2003 and 2011. To date, he is still the only ROTC Instructor with an osotmy appliance. He's also written five National Character Education Grants to assist high school youth with mentorship and pregnancy prevention, special needs children acceptance, and a grant for youth in penal institution.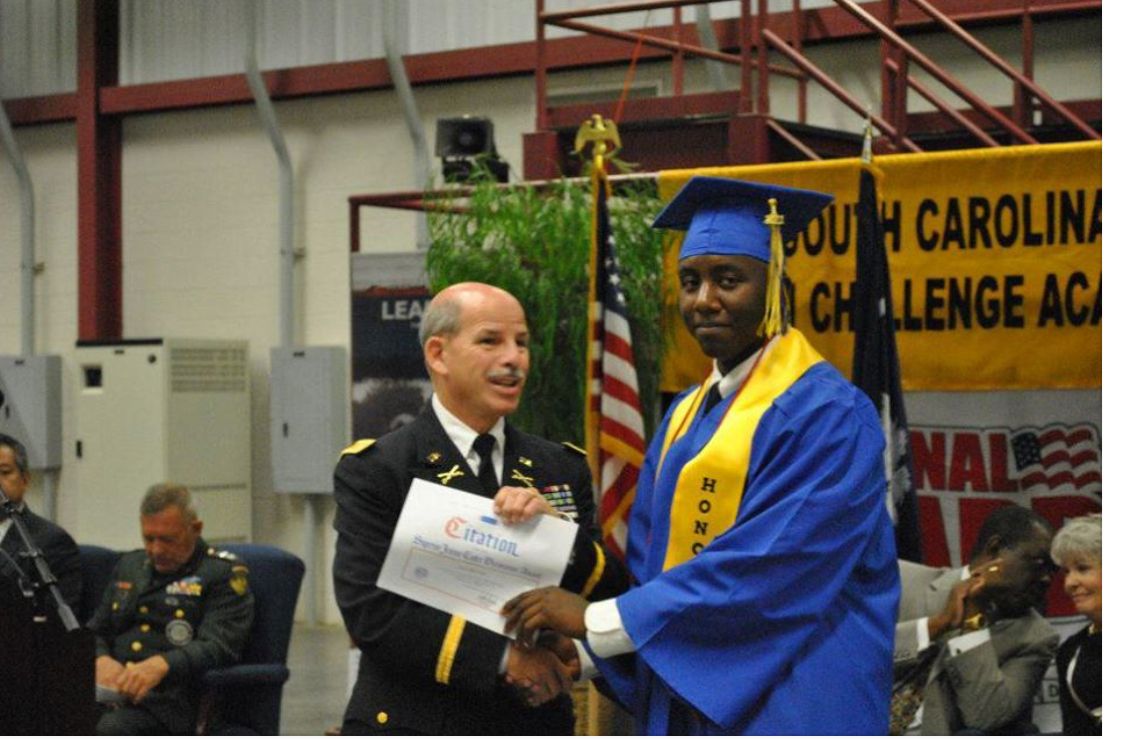 Justin and a student he worked with for the South Carolina Youth Challenge.
If he doesn't sound busy enough yet, know that since 2002 he has help execute up to five blood drives a year for the American Red Cross. And since his promotion to the rank of Colonel in the South Carolina State Guard, Blum has been named the Volunteer of the Year for the state of South Carolina. But his life of service doesn't end there and we're all waiting to see what's next for LTC(R) Justin Blum, the man who has never let his ostomy define him.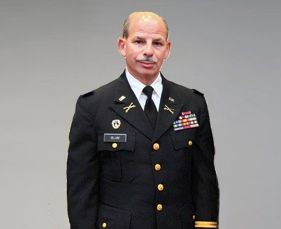 A special thank you to LTC(R) Blum for sharing his story. If you, or someone you love, would like to share your story, please, let us know!